Previsualizing in Black and White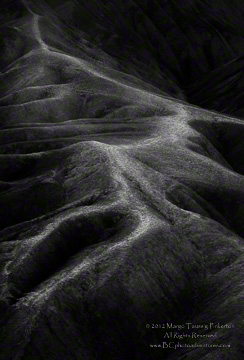 I am not quite ready to leave Death Valley. Sure, we are now in Vegas visiting with friends, he a childhood and car-crazy buddy of Arnie's. We have been having fun catching up, but we have also been talking about our wonderful time in Death Valley.
During our workshop, as most of you know, Arnie and I don't get to photograph much. When I do, I have to make it count. The images in this blog were one-shot wonders, as one of our alumni calls them.
Carefully compose, think of composition and shape and form, light and shadow, and it is a perfect recipe for a black-and-white photograph. Those who follow this blog have already seen one of them, done on the last day on the way back to our group shot. The one to the left is one I did last year called "Fingers" that has garnered a few awards.
But there were a few others…
From almost the same location where I made the image above, I made this one. It, too, was about lines.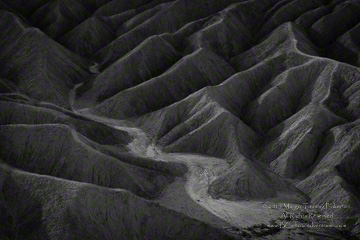 Out on the dunes, I was helping one of our participants look for and recognize patterns. I did a quick grab shot to show her a possibility. When I looked at it later, I