Over the weekend, I took time off from our regular work to do some black-and-white images.
Some people see in color, and some people see in black and white. Arnie and I see in both.
What it really is all about is seeing values. You know, that range from lights to darks. As did Arnie, I started out in black and white, but for me, it was with my trusty Brownie Hawkeye. Some of those images that I made when I was eight stand the test of time today. But that's not the point of this blog except that I have been around black and white for a very long time. Even when I was shooting mostly color, I was also admiring the black-and-white photography of Henri Cartier-Bresson, Edward Curtis, J. Walker Evans, and a plethora of others.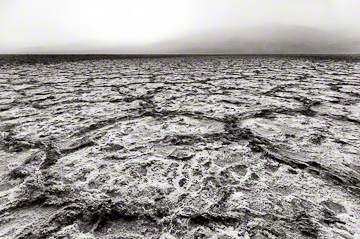 There were some images from Death Valley that I knew at the time would make good black and whites.
As those of you know who follow this blog, we ran into the sand/dust storm of all storms in Death Valley last month. Locals hadn't seen anything like it in decades. While it was challenging to keep the camera safe, it was also great for photographs. The one above was made when the storm was beginning. The valley floor was still clear, but the mountains and hills were being obscured as the storm got lower and lower.
I didn't want to lose that feeling of the storm lurking above the desert floor. I had already processed my color image, but after I took it over into nik Silver Efex Pro*, I brought it back into Lightroom to complete my tweaking. In this case, I wished to maintain the subtle outline of the mountains across the desert floor, so I darkened the exposure in that upper part of the image and brought out a little more detail in the salt ridges in the foreground to contrast with the storm.
Very often, I vignette by darkening the edges to draw the eye into my subject, but in this case, I actually lightened the edges a tad to lessen the impact of the salt lines as they drifted out of the frame.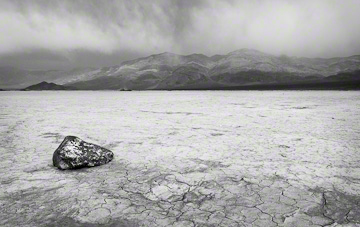 In the next image, there were signs of the storm in the distance. The "scooty" rock in its setting was my subject, which meant that I could not allow the mountains to intrude too much.
Again, I took my image over into nik for my base black-and-white conversion, did my normal tweaks there, then Continue reading →