Cuba, Day 14
The Famous Cementerio de Cristóbal Colón & a Return to the Malecón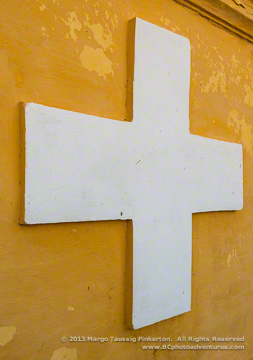 We returned the second week to Cementerio de Cristóbal Colón, the largest in Havana. The city has a population of over two million, and this cemetery alone, covering some 140 acres, is reputed to have over one million interred within its walls. It is also a place of history and of art.
Surrounded by an ocher wall with white crosses, such as the one shown here, and laid out like a city with wide avenues and cross streets, there is clearly class division here.
The Cuban government maintains the tombs and monuments … at least for the rich who imported Italian marble to show off their wealth along Avenida Cristóbal Colón, the main street. A good percentage of the other statues, monuments, and tombs, however, are crumbling, their families long gone, many probably now in Little Havana in Miami. It is sad to see the marked differences between the social strata in a country that supposedly did away with that during the revolution.
Money is money, and corruption happens in any country. Practicality also plays a large role. After all, visitors come to see the elegant and lavish monuments, so the government takes care of those first.
Many of the monuments have stories. Near the famous firefighters' monument stands the lavish, art-deco tomb built for Catalina de Lasa by her second husband. In the early 1900s, they fell in love when both were married to others.
Cuba was then predominately Catholic with little tolerance for such circumstances, so they fled to France and ultimately got an annulment, enabling them to get married. Eventually, they returned to Cuba.
When Catalina died, her husband commissioned René Lalique to design and build her tomb. Made of marble, presumably Italian, and decorated with Lalique glass and sculpted black-granite doors, there is nothing else like it here.
There is a 75-foot-high monument to the firefighters who lost their lives in the great fire of May 17, 1890. Cuban law decrees that no monument may be higher. Catalina's husband tried to get around this by planting two palm trees in the hope that some day, they would grow higher than the firefighter's memorial seen in the background. They have not and at this point are unlikely to do so!
The streets and avenues, however, are well maintained. Here, a man slowly and carefully sweeps the leaves aside under a wide, tree-lined avenue.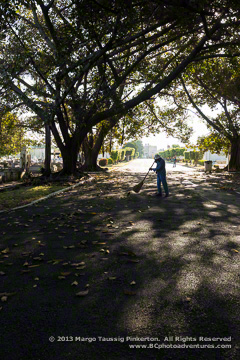 Another legend goes with the much-visited Continue reading →