Traveling between destinations has an annoying habit of cutting into photography and scouting time.
Yesterday, with a long drive between Death Valley and Joshua Tree, while we arrived at a great time for photography, we also only graced the perimeter, so to speak, of the park.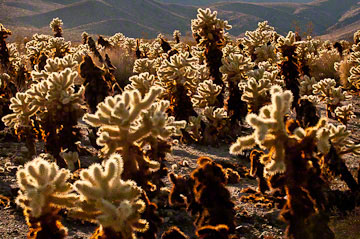 Today, we started out in the Cholla Cactus Garden. Cholla. That's pronounced CHOY-ah, for those who are not so conversant with Spanish.
Also known as the "teddy-bear" or "jumping" cactus, there are at least two varieties of this plant in the park … Silver (the most common) and Pencil. We were photographing these fascinating plants, using the low light to accent the prickles.
Before we got into the garden, however, we were surrounded by Dusky Chipmunks. I am one to talk to the animals. Some of you who have been on workshops with us have seen this first hand. I did my normal hamster/chipmunk noise, and one cheeky little soul came right up to my foot.
"I'm not going to feed you, so don't get your hopes up," I ch-keh-ch-keh-ch-kehed to my new friend.
"There's always hope," it chattered back.
Now, those Cholla Cactus, fuzzy, they ain't. There are signs and notes in the park literature to be careful, as those little fuzzies have imperceptible barbs on the end, useful for survival, but not so good when Arnie gets into the car later and finds he has become a host to a five-inch-in-diameter ball. We didn't test it out, but they are reported to cause quite a sting and be very difficult to remove.
Arnie shook his leg and foot, and it dropped onto the car carpet. Great! Now, we have prickles on his pants, shoes, and carpet. I had one of those tell-us-how-you-enjoyed-your-stay cards from Death Valley, and I handed it to Arnie so he could maintain a respectful distance between the prickles and his hands.
Fortunately, the carpet was one of those over mats that could be removed. First, he used the card to flick the unfriendly and persistent creature out of the car, then removed some of the spines from his shoes.
People were coming into the garden, so we moved to give more parking space. Don't tell anyone, but I think that Continue reading →