I awoke early to voices next door. Photographers just like ourselves, but obviously, they had arrived only last night. Probably after dark. They didn't realize the effects of the dust/sand storm. Clearly, there was to be no pre-dawn photography, yet doors opened and closed, cars started, only to return a short time later. More doors opening and closing, and again, quiet.
When I peeked out the window, much to my non-surprise, there was nothing. Only the dim haze of fierce winds blowing sand and dust in the darkness.
We decided to head to another area. No point gumming up our cameras and lenses with the fine dust that comes with these storms.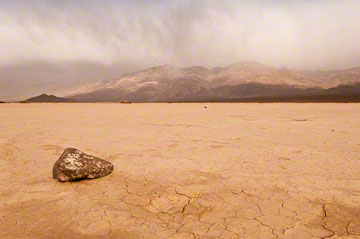 There are a number of dry lake beds. Remnants of ancient times. The cracks and the mud and the patterns they form are very enticing to a photographer.
I knew what I wanted and put on a wide angle lens, a 12-24. As it turned out, I kept it on the whole day. I do that sometimes. Use it for the various effects it can offer. Sure, I used the zoom on the lens, but with a lens like that, the foot zoom is particularly critical to getting the effect one wants.
We drove by slowly, looking for different angles.
"Stop!' I saw what was the right combination for me.
Out into the lake bed I went. There were slightly damp places that added to the texture. The storm made the distant views almost other-worldly. I found a rock that thoughtfully pointed into the scene.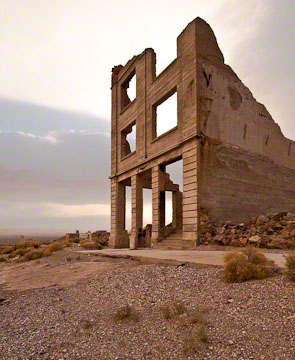 A friend came out to shoot with us for a few days before the workshop. We headed to a famous ghost town. There are several in the park.
The skies were both gentle and eerie, almost ethereal. They provided a great backdrop to our scenes. This building stands tall, but usually, it is photographed in the low light of either end of the day.
We keep hearing stories of how unusual this storm is. Our hostess at breakfast, who has been in the area for many, many years, can only remember one other storm like this one. Again, those of us who love what Continue reading →